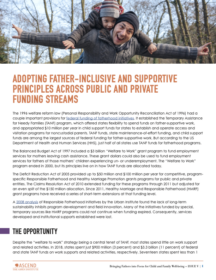 As the COVID-19 emergency and response efforts stretch state budgets, there is an opportunity for Congress
to update the child support program to directly fund employment services for noncustodial parents. We know that ensuring living wage employment for caregivers moves the child support program closer to achieving its goal of all children receiving timely and consistent financial support from parents as ordered. We also know that economic stability and economic assets are critical to enabling conditions for caregivers to support their own, their children's, and their families' health and well-being.
Foundations and private corporations have opportunities to deepen the impact of their investments by adopting father-inclusive and -supportive principles, providing father-focused grantmaking, and supporting systems change to help dismantle structural barriers to prosperity.